As I described earlier this week, this year's edition of the Wondermark Calendar (Update: which is now sold out!) chronicles the famous around-the-world journey of Dr. Priscilla Dustbin. Here, in her own words (from the calendar's introductory page), is her rationale for setting out on this expedition of discovery…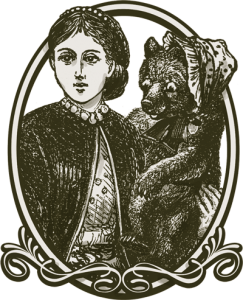 It has always seemed to me that all things deserve names, and good names at that. Not Latin or Greek jaw-smashers that no person could ever say, but proper names, like Dennis or Keith or Isabella. The difference between a wild animal and a pet is simply a name, for the things we name, we come to love. I wish to love all things. So I will give them all the names they deserve, if they have none of their own.

I have booked passage on a steamer leaving Port Georgina and am bringing only my pencils, papers, and thirst for travel. Kinross at the doggery has given me a letter of introduction to a cousin of hers in Piraeus; from there, my wits will be my guide. This world is far too large for everything to have been seen, and even of those things seen, not all have yet been named. I do not know what I will find on this voyage, but already I have heard rumors of fierce-eyed beasts, lying in wait in dark jungles no person can penetrate, ready to rend me limb from limb—with flashing claws and dreadful teeth—in a ruddy instant.

See how my pen trembles here…I can barely write from the excitement! What wonders I will see…!
Each dated page of the calendar (there are 27 of them in all) recounts an anecdote from the good doctor's journey. Whenever she encountered an unusual animal, she would illustrate it, and give it a name, as you can see:
In this way, you can follow along with her throughout the year, exploring the strange corners of the world at her side, and learning all about the curious beasts she came across on the way.
The trip takes her from Europe to North Africa; from the Middle East to the frozen Northlands; across all the various Americas; and drops in on uncharted islands in between.
I love reading travelogues, and after years of structuring the calendar as a string of disconnected goofs, I thought it would be fun to try to tell a (wee bit of a) continuous story all through the year. So this calendar does so — very loosely, I should say. (It is still replete with disconnected goofs.)
I also had a lot of fun making the animals for this calendar! I even got carried away and made too many, and had to choose which to include. So rest assured you are getting the ALL-STARS of Team Curious Animal.
I'm really proud of this year's calendar and I hope you'll like it too! As always, it sits on your desk in a handsome wooden backboard (optionally included — or, feel free to save a few bucks and reuse your board from a previous year!)
And, of course, this year for the FIRST TIME we are including commemorative plaques — in the form of our new Wondermark Cast Cards — free with every calendar.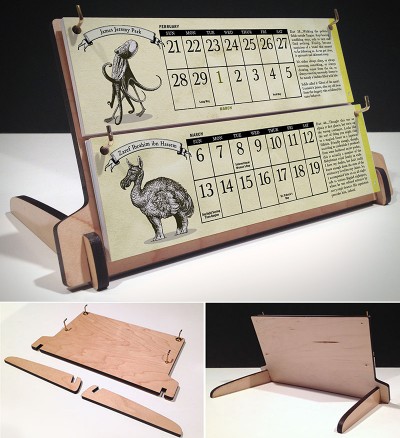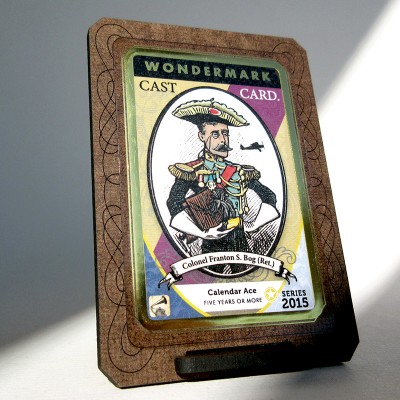 As I write, there are only 37 calendars still unclaimed from our limited run! You can order yours RIGHT HERE, RIGHT NOW. They will be shipping THIS VERY WEEK! Update: They are ALL GONE!