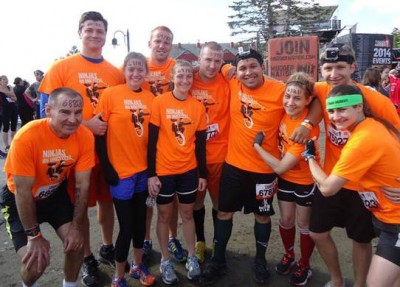 I received a note the other day from reader Christen W., who mentioned that she and her husband and some friends were going to do a mud run, and were interested in calling their team "Ninjas on Unicycles" (after this comic strip about defending one's thesis).
One thing that I often do, but don't mention much, is prepare custom batches of shirts for teams, organizations, or events!
In this case, Christen made reference to an older T-shirt I used to offer, which featured an illustration of a ninja riding a unicycle. I whipped up a batch on Safety Orange for their happy mud gang, pictured above!
If you're interested in a custom batch of shirts, the minimum quantity is 15. I am happy to work in your team or group name and logo, and/or something from a particular comic, and/or an adaptation of one of my existing shirts.
Feel free to email me (dave at wondermark dot com) and I'd be pleased to give you a quote!