Hey we actually have some printed calendars now!
They look like this!
Each card features a particular pachyderm with a problem — and the solution to their ill.
There's no "Elle sycophants" or other such nonsense in this calendar. It's just good, useful information about how to cure diseases that may afflict noodlenosers.
Also, you can get the veteronorfian himself on (one of our final few) Cast Cards — Sir Kel F. Finnt himself!
The Calendar Ace card (for past patrons who have participated to the tune of five calendars or more) features the vaguely elephantine lava creature from the "Un-Named Beasts of the Forgotten Wilds" calendar from 2016.
Both Cast Cards are optional, but free if you want them (the latter only if you qualify, of course)! There's a menu on the order page for you to indicate yes or no.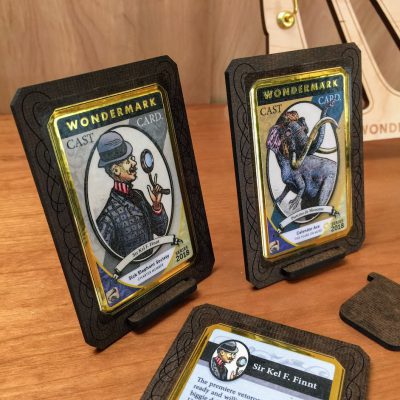 There's also an option to let you select how urgently you need the calendar! I am shipping them out this week for those who request haste (as many as we can manage, anyway). UPDATE: I've shipped all I can before Christmas; everything else will ship in the first run of January!
The true, formal print run of the calendar will not be complete until after Christmas.
But for the folks who indicated they would really love to get their copy as soon as possible, I have done a SPECIAL BESPOKE PRINT RUN.
It turned out I could get a limited number made in time as long as I was willing to do all the finishing work myself.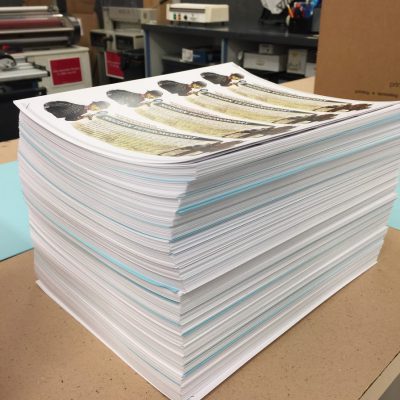 That means all the cutting, trimming and drilling.
So that's what I've been doing the last few days, and it's turning out pretty good, I think!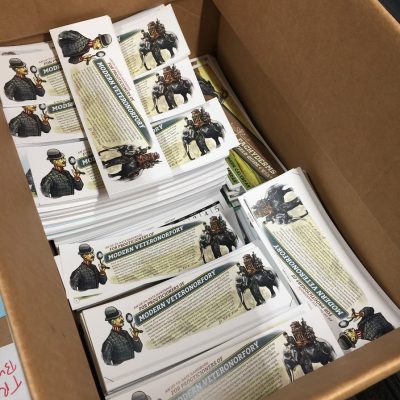 If you get one of these, you will probably get some charming hand-made irregularities included at no extra cost. Probably!
I will only be shipping the advance orders through Wednesday of this week (the 19th), or until supplies of the advance batch last, whichever happens first — then I'll take a break to have Christmas with my family.
I'll be returning to the studio the week after Christmas, picking up the "real" print run then, and commencing to ship the remainder of all orders!
Oh yeah, and I got the sick elephant books in too:
Contains all the hits pic.twitter.com/Qf50JPInvk

— David Malki ! (@malki) December 14, 2018
You can get the book by itself if you like, or bundle it with the calendar! It's 132 pages long, somehow!!
---
Since we were a bit late getting the calendar going this year (WHAT ELSE IS NEW), there are still plenty of copies available, and I expect it will remain on sale at least through the first week of January.
Or they might sell out before then! But there are at least several dozen copies remaining as I write this.
Now I'm gonna go out to the garage and drill some more calendars to ship tomorrow! Maybe one of them will be…YOURS????