Oh man there's a couple neat things coming up!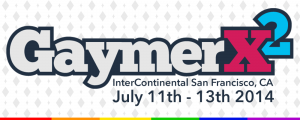 THIS WEEKEND, IN SAN FRANCISO
(Friday-Sunday, July 11-13): It's GaymerX2!
It's a gaming convention with an all-inclusive mission statement (abridged below from last year's original GaymerX Kickstarter project):
The stereotypes about gamers are many, but the core is the perception that gamers are usually straight white guys in dark rooms furiously mashing at a controller. That's not the reality. Gamers come in all sizes, genders, races, and sexual identities.

Gamers, as a whole, have had to make space for themselves in a society that, for a long time, treated them as outsiders. They have come together and created a real community of people, but one that is not always welcoming if you don't fit into the mold. Just like most gamers, queer geeks and gaymers want that same sense of community and belonging.

We are creating a convention where all types of geeks can come together, meet others like them, and have a blast without having to worry about what their peers think of them or being discriminated against.

We want to be clear this isn't just for gay white dudes either. We want all genders, races, and sexual identities including our straight friends and allies to come together and have a gay, geeky good time. We believe very strongly that creating a space like this is not only important for building a strong community, but also showing new generations of gaymers that there are others like them out there, they are not alone, and there is a welcoming place for them, not just at GaymerCon, but as part of the larger gaming community.
I'll be on the second floor in the Indie Alley section! CORRECTION: My table is on the fifth floor in the Expo Hall, table i21.
Last year (at GaymerX) there was a dude who proposed marriage on stage to his boyfriend and it's just the sweetest doggone thing you ever saw.
Tickets may not be available at the door, so check the website if you're interested in coming.
I'm pleased to be attending, not because I'm gay or make specifically gay-themed material, but because I want to support this effort to give gamers of all persuasions a safe space to have fun, and also because I want to meet the kind of person who would come to that sort of space!
LATER THIS MONTH:
KPCC TESLA EVENT (July 20)
KPCC, one of my local Los Angeles public radio stations, is throwing a Tesla party as part of its science programming for kids!
It looks like reservations to attend the live event are full up, but you can watch the livestream on their website at 1pm Pacific, Sunday July 20.
Why would you want to (besides a deep and abiding love for all things Tesla — after all, you're reading this on the internet)?
Well uh I will be playing Tesla at the event

STILL LATER IN JULY:
SAN DIEGO COMIC-CON (July 24-27)
'Nuff said