Although there is no 2020 Wondermark calendar per se, observant Marksman Gary T. let me know that dedicated calendar fans can make a 2020 calendar at home with the aid of:
• January–February: The 2014 Wondermark calendar
• March–December: Either the 2009 or 2015 Wondermark calendar
It's Leap Day this year that throws things off.
SO, although I do not have 29 calendar pages for you, I DID manage to scrounge up ONE page – the sole remaining fragment of the otherwise-lost 2020 calendar:
It's a patch for the end of February. Hopefully it makes sense out of context.
Here's the link to download the patch page.
Of course, some of the holidays will be wrong if you do this, so calendronaut beware.
---
Each year I also make a progressive (gapless) calendar for folks to download!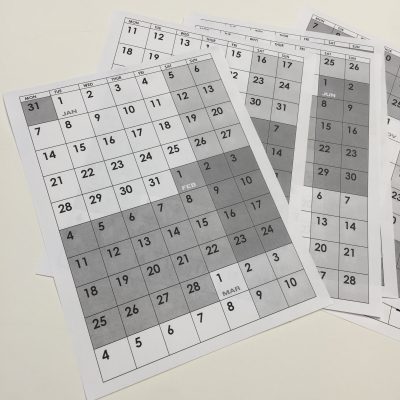 And I have done so this year as well!
I found this blog post interesting – written by someone who likes the gapless calendar, but who didn't like the weekends being grouped together at the end.
The weekends at the end can be useful for someone like me, whose schedule is sometimes built around all-weekend events.
But I do agree that if you're used to reading Sunday-first calendars, it can be a bit disorienting.
So this year I've made two versions:
The blog post in question also contains a few other criticisms: the author didn't like the shading, and thought the numbers took up too much room.
All of that is perfectly valid critique, but I'd already finished this one. Maybe next year!