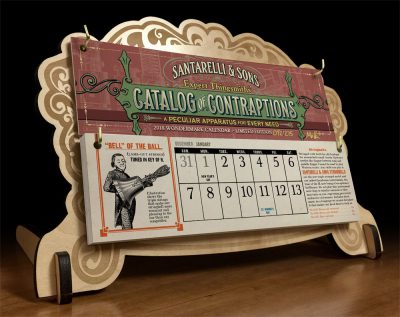 Here's our first look at the 2018 Wondermark Calendar: Santarelli & Sons Expert Thingsmiths' Catalog of Contraptions!
The calendar is chock-full of important information about the finest contrivances and apparatusi ever devised. Truly, A TOOL FOR EVERY ILL.
Here are some things we can say about this year's Wondermark Calendar FOR SURE:
• It is compatible with any previous year's stands, so if you already have one, you don't need a new one!
• However, this year's stand features an all-new design (pictured), unique to this year.
• All calendars will ship with a new, exclusive Wondermark Cast Card featuring famed proprietor and expert thingsmith Edouardo Santarelli.
• Calendar patrons of five years or more are ALSO eligible for a "Calendar Ace" Cast Card -– just let us know, in the Special Instructions box at checkout, that you qualify.
The "Magnet Kit" option listed above is a set of five little framed magnets, similar in style to our Mini Buddies but in Wondermark comic-themed designs. It'll be something like the pictured mockup below.
If you order other things at the same time (i.e. holiday cards, stickers, or wooden magnets), everything will ship all at once, so if you want the other stuff sooner, please place a separate order, which will ship right away.
If you DON'T NEED your calendar by Christmas, feel free to tell us "No Rush" in the Special Instructions box. We'll put your order at the back of the shipping queue so we can get the gift orders out first. When we DO ship your order, we'll include a little something extra as a thank-you! (No Rush orders will ship at latest by early January.)