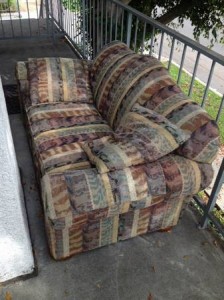 Comic #1060 is quasi-autobiographical. We had a yard sale over the weekend, and we ran into that problem that always occurs (at least if your brain works like ours): you get stuck with something that's too good to just throw away, but nobody else wants it.
In our case we have a couch that I got for free ten years ago. It's a perfectly nice little couch, very comfortable in my opinion, but it was taking up space that we wanted to use for other things, and so we offered it in our yard sale.
Nobody bought it. We have cats, so it's a little bit scratched up — I understand. But the thrift stores don't want it for that same reason, and nobody on Craigslist seems to be interested.
It's a shame! It's a very serviceable couch, if you don't mind the scratches, and the somewhat '90s pattern, and the chance (since it has lived with cats for ten years) that it may contain bonus cat-related mysteries within. What's life without a little mystery, right??
And even though my actual daily life would be affected no differently if it went to the dump, vs. if it went for free to someone who'd love it, I have enough affection for the couch (and general sense of civic responsibility vis-a-vis recycling) that I wish I could see it go to some use somewhere.
So yesterday I began to think about the lengths I would go to in order to give it away.
Just spent $200 on a giant banner photo of my couch to put by the curb reading "FREE"

— David Malki ! (@malki) September 8, 2014
Just spent $1850 on a skywriter to inscribe upon the heavens the pickup address of my free couch

— David Malki ! (@malki) September 8, 2014
Just spent $15,000 on platinum-level public radio underwriting so the townhall debate on public housing can be sponsored by my free couch

— David Malki ! (@malki) September 8, 2014
Just spent $200,000 on a Super PAC to encourage city council representatives to write legislation aimed at finding a home for my free couch

— David Malki ! (@malki) September 8, 2014
Just spent $467,000 on a 30-person fact-finding mission to the Balkans to inquire of refugees the best way to advertise my free couch

— David Malki ! (@malki) September 8, 2014
Venture capitalists front millions of dollars to create next-gen social media app built around promoting @malki's couch.

— Mark Terry II (@met2art) September 8, 2014
Just spent $5 million on preliminary trials for @elonmusk to launch a rocket to see if any moonbeings might want my #freecouch

— David Malki ! (@malki) September 8, 2014
Just spent $250M on a tentpole actioner in which Channing Tatum looks directly into camera and recites the address to pick up my #freecouch

— David Malki ! (@malki) September 8, 2014
i'm a lead developer on a machine learning project using google analytics data to design the optimum advertisement for @malki's free couch

— dave (@heavyvoxel) September 8, 2014
Just spent $300,000 raising a child to the age of 18 so they can make their way in the big wide world and find a home for my #freecouch

— David Malki ! (@malki) September 8, 2014
I am developing an algorithm that simulates the objects, material densities, and empty spaces between @malki 's couch and a future house

— Omar (@EightHeadedBoy) September 8, 2014
Just spent $2 million to hire @billclinton to give a speech to the G8 extolling the virtues of my #freecouch

— David Malki ! (@malki) September 8, 2014
I'm planning to start a kickstarter to fund the building of a 3D printer large enough to print a house to store @malki's free couch.

— spicedrum (@spicedrum) September 8, 2014
I just traveled from Calais to Kamchatka on a motorcycle whose treads left a repeating impression spelling out the address for my #freecouch

— David Malki ! (@malki) September 8, 2014
@malki How much to rent a U-Haul and drive your #freecouch to SPX and leave it on the free minicomic table?

— Sara SPX L13 McH (@yellowcardigan) September 8, 2014
@yellowcardigan I think because there's so little time, I'd be better off chartering a Skycrane helicopter

— David Malki ! (@malki) September 8, 2014
We should all own @malki's #freecouch, and so I propose #couchcoin. I have store exactly .043 CC in a secure Dreamhost serv-

— Dan Stefanidis (@elbasunu) September 8, 2014
Just spent $3500 for a booth at Furniture Expo so I can hand out gift bags to industry conversation makers to drive demand for my #freecouch

— David Malki ! (@malki) September 8, 2014
I will go to truck driving school and earn my CDL-A so I can keep an eye out on America's roads for someone who wants my #freecouch

— David Malki ! (@malki) September 8, 2014
I will take a decade-long apprenticeship learning the trade from a master reupholsterer so I can ask his friends if they want my #freecouch

— David Malki ! (@malki) September 8, 2014
scouring Pinterest for suggestions on how to upcycle @malki's #freecouch into a vertical indoor catnip planter & DIY upholstery utilikilt.

— socratic jorts wario (@heySMM) September 8, 2014
My rituals will connect our world with Hell itself, so I can spread word about @malki's #freecouch.

— Myles Schaller (@TheThirdPolice) September 8, 2014
I am wandering the streets of a vast and ancient city, grasping strangers by the shoulders and demanding they buy @malki's #freecouch

— Jack Newhouse (@Chirurgic) September 8, 2014
Can someone just give @malki a free couch so he'll shut up?

— R. Kris McNeely (@rkrismcneely) September 8, 2014
@rkrismcneely nooo!! then I would have TWO free couches and twice the problems

— David Malki ! (@malki) September 8, 2014