In a recent interview, Marmaduke's Brad Anderson dropped hints as to his legacy:
"Hank Ketcham died a couple years ago, but he had two guys in training, and you can't tell the difference. And he always had writers. He had quite a big staff. I don't have any staff, except my wife, who takes care of the office."
Anderson, born in 1924, started cartooning at the age of 15. In 1954 Marmaduke began appearing in newspapers. The mischievous Great Dane has sold over 10 million copies of his over two dozen books. It's currently featured in 500 newspapers in over 20 countries.
Anderson must awake each morning terrified. There's no one else. There's no Marmaduke heir. The dog will die with him.
He must keep living — if only to keep Marmaduke alive. Because that dog is all that brings meaning to his life.  It's all the success he has ever known.
In my local newspaper, the crappy square strips — Marmaduke, Heathcliff, Dennis the Menace, and Family Circus — all appear together, in a sort of matrix of suckitude. Occasionally they synergize; one may inadvertently comment on another, or illuminate an unseen facet of an issue raised by another.  Each of the four consistently deals subtextually with deep-seated social neuroses — with Dennis it's the fear of abandonment; Heathcliff addresses post-violent-victimhood paranoia; and Family Circus is racist.  (More on these in future articles.)
But Marmaduke is uniquely psychosexual; the dog is a huge, lumbering id waving its monster lipstick-phallus throughout the tightly-buttoned Winslow household while tension simmers just below the surface:
Marmaduke the dog is the rape fantasy taken flesh; he is the overpowering force that conquers your will and thus leaves you inculpable. You physically cannot resist; therefore you are absolved of responsibility. It is not your fault. (The tacit implication is that you are then free to enjoy it guiltlessly.)
However, brutalizing rape is socially unacceptable behavior.  It's excused because he's a dog, but it's not condoned.  He is a force that can only be vectored, not contained, but civil society must at least do their best to try and harness his surging energy.  Thus the Winslows and their hapless neighbors must discourage Marmaduke's advances whenever possible:
However, there is a clear difference between what society must openly condemn and what may be illicitly enjoyed behind closed doors. Anderson delights in dancing across this line with the character of Dottie Winslow (the wife and mother). Marmaduke is several times larger than her husband, Phil; in terms of testosterone energy per pound Marmaduke is a pure dynamo:
And so Anderson explores this relationship between the unfulfilled housewife and the sexual beast that lives with her family. When Phil is at work, and the children at school, she is alone with him  Are her needs as a woman being met by her husband? Did she marry for love, or for convenience? Did she, in fact, settle down too early? Anderson hints at a longing buried deep in her psyche.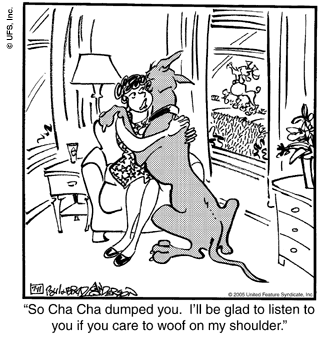 But whatever she feels, she is part of society. She cannot act. Anderson has filled Dottie's world with people to whom her desires are monstrous. Each day, she walks a tenuous balancing act between propriety and fulfillment; a razor-thin line separates her fragile doll's house and a cathartic loosening of every inhibition that would allow her to feel, even just once, what it would be like to live.
It is a line she must not cross.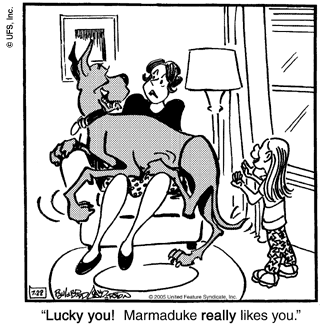 In his comic strip, Anderson has created a model of the human condition. The Marmaduke-id and the Phil/society-superego combat each other in the person of the Dottie-ego. To function perfectly in the artifice of society, Anderson asserts, we must become a neutral party to our own desires; conversely, to give in to our innate selves is to reject the mores and codes of the constructed world that sustains our shallow life.
Cruelly, Marmaduke himself is not party to Dottie's torment. He is ever present, ever willing, should she ever decide to give in and fall into her own infinity.  He's ready to go anytime; however, human society in the aggregate — Phil, for example, personifying the "rules" — cannot allow humans in the singular to experience the depths of all that they might.
This is the joke that mankind has pulled on itself.
To Anderson's credit, when his contemporaries have all passed on their mantles and died, he clings to his creation, his mankind-in-microcosm, and tempts us with the challenging possibilities of what man might someday become. In the same interview cited above, Anderson describes his creative process:
"I think like a dog, and that helps a lot."
Anderson has opened himself to that id, that release to instinct and desire and carnal pleasure. Anderson beckons us temptingly from the other side of the rainbow. But Anderson knows that the "rules" are what keep us together. Maximal individual fulfillment on a global scale would lead to chaos, depriving us of infrastructural elements we need to survive. So it's a trade-off: to live, to be able to buy food and homes and blankets and trinkets, we must die a little. We must shut away our ravenous base natures and contribute to the homogeneous general good. No matter how painful on a personal level, for the sake of society, we must not allow the Marmaduke-id primacy: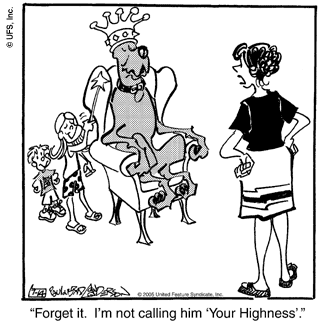 The problem is, while Marmaduke lends itself readily to textual analysis, it's never very funny, and it is, after all, a comic strip. It's always about a big dog climbing on things or being awkward or being annoying, and there are about three jokes in that concept, and Anderson's been doing them over and over for fifty-one years. From the same interview:
"And, of course, dogs do the same thing over and over, but if you follow them around, they do it a little bit differently every time. So that's what I try to do."
This is great for little-old-lady-with-her-morning-tea comicstrippery (while the coal-black spark in her inmost being is fanned, perhaps, into a wan but unrecognized flame) but bad for our hip, ironic, post-postmodern cynical times.
The problem is that the flaw lies not as much in the writing of each individual strip as it does in the underlying concept.  But, in keeping with the spirit, I will rewrite the above strip (Marmaduke on the throne) for today's audience:
Caption: "Children, you won't believe me now, but you'll thank me later — no matter what's he's told you, all authority on heaven and earth has not been given unto him."
Until next time… I'll see you in the funny papers.
— July, 2005