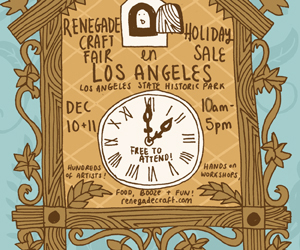 This weekend I'll be at the Renegade Craft Fair Holiday Show, Saturday & Sunday from 10-5 at the Los Angeles State Historic Park, near Dodger Stadium! It's totally free to attend and features tons of cool handmade stuff, crafty demos (such as a make-your-own-wrapping-paper workshop) and general fun. If you need to pick up holiday cards or gift items such as books, posters or T-shirts, I'll be there to hook you up! Come say hello!
Free Machine of Death 2 samplers
If you enjoyed Machine of Death and know someone else who might enjoy it too, why not give a copy as a gift? If you buy a copy from TopatoCo, we're throwing in a copy of our Machine of Death 2 Sampler Booklet (featuring two brand-new MOD stories from the upcoming sequel!) free with every order while supplies last. Get the book to give away and keep the sampler yourself.
(I'll be giving away these sampler booklets at the Renegade Craft Fair as well.)
Calendar update
The 2012 calendars are moving into the printing phase tomorrow, and if we stay on schedule, I expect them to be finished and ready to ship by the end of next week. (If you missed my step-by-step explanation of how the calendars are made, read this!) This is our fifth year hand-printing these calendars, and likely the last using the current technique.
As I write this, there are only around 50 copies still unclaimed! (Get yours here.) We're also still shipping out holiday cards, and we will continue shipping all orders until December 19. I can't vouch for the Post Office's efficiency, though, so order sooner rather than later.
TopatoCo, however, does math and stuff. They figured out their pre-Christmas shipping deadlines, and put them here in a friggin' grid. Today, Friday the 9th, is their cutoff day for guaranteed delivery using USPS Domestic First Class and International Priority Mail. (My store at TopatoCo.)
BONUS FIND: I was unearthing supplies today and I found a handful of 2009 and 2011 calendars! I always make a few extra (to account for misprints, lost mail, &c.), and it looks like these few hardy troopers managed to stick around till the bitter end. If you missed a prior year and would like to add these fine artisanal artifacts to your collection, I've made them available at clearance prices while supplies last.
Note that these were the last to go, which may have been due to slight smudges, irregularities &c. as befit handmade products. This gives them character.