I'm back in the office after the Christmas break, and have resumed shipping out Wondermark Calendar (and Sick Elephant book collection) orders!
We're making the associated Cast Cards at a rate of about 50 a day, so it'll take another couple days to catch up to all the orders backlogged from December  — thank you very much to those of you who indicated you'd be OK with receiving your order in January.
Your orders are next on the docket! And now that we're back on the assembly line, we're moving through the backlog briskly.
I'm aware that last month, a feed error meant that a lot of readers missed some of the updates about the calendar. So I'm pleased to say that we do indeed have copies still available, if you'd meant to check it out but hadn't yet!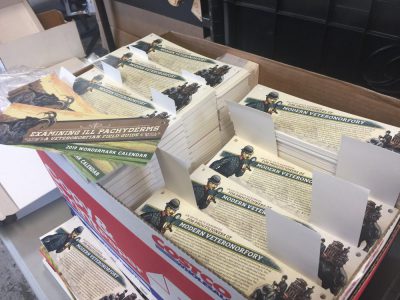 This year's calendar, Examining Ill Pachyderms: A Veteronorfian Field Manual, is narrated by celebrated veteronorfian Sir Kel F. Finnt, who writes in the introduction:
An Up-To-Date Handbook For Progticioners of Modern Veteronorfory

Since my grobduation from mordical school, I have traveled the world exormining and diagmosing every manner of wild creature. I have specialized in pachyderms; particularly, the noble noodlenoser. I present here, in this useful guide, a description of conditions I have encountered in the field, as well as troitments I have administered to the afflicted animals. I also include reports from fellow progticioners in cases where I can personally vouch for their accuracy and efficacy.

The included illustrations were either drawn from the actual patient, or from memory or a third-hand description up to fifteen years later.

As a noodlenoser veteronorfian, you will encounter many animals suffering from the most peculiar of conditions. It is my hope that this guide will aid you in your diagmoses and troitments. Remember that you are not "veterinarians" — you are something different and thus, I must assume, better.

— Sir Kel F. Finnt
Sir Finnt also takes pains to remind any of us who may wish to attempt the "troitments" included in his field guide that "diagmoses" are legally distinguishable from actual medical diagnoses.
Each calendar also comes in a FREE ENVELOPE.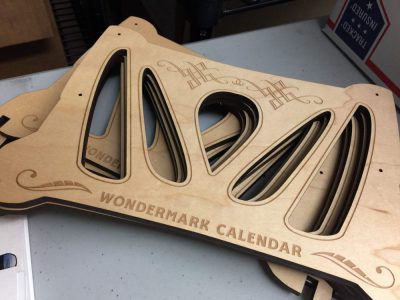 You can re-use a stand from any previous year if you already have one; or, you can pick up one with this year's unique design!
The legs fit into the holes, so it can be shipped more compactly! It's a MIRACLE OF EFFICIENCY.

You can, of course, also pair your calendar order with a copy of The Elephant of Surprise — or, just get the book instead of the calendar.
I already have a second printing of the book on its way!
My wife, once again, got conned into helping out. Maybe she'll pack your order!