I'm pleased to announce several new additions to my store! First, two new Multi-Purpose Greeting Cards. The X8-R Congratulator (click for bigger):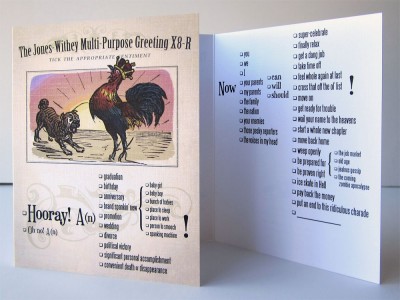 And the X9-G Thanker:
I've decided as of this moment that all my Multi-Purpose Cards have NATO-assigned code names like fighter planes. This, of course, brings the total number of Multi-Purpose cards up to six, representing — I am not kidding — 8,710,712,524,800 possible occasions they may be pressed into service for. I did the math twice.
Suffice it to say that a dozen of these cards will surely cover a year's worth of any occasion you might encounter:
Both the new and many existing cards are available immediately at the Wondermark Brand Dry-Goods store — as well as the new 12-pack, pictured above.
Sticker Time
Have you ever wanted to just shout "Sticker time!" at the top of your lungs? If not, you will when you see my brand-new Hyperbolic Upgrade Stickers. UPDATE: These sold out nearly instantly! But I have a re-order on the way. I'll make noise when they're available again.
Inspired by this comic, the Hyperbolic Upgrade Stickers are perfect for making any object, device, contrivance or whatchamacallit over 300% more important. There are eight of them in all! (Click for a closer look.)
"Wow," you might say, "those are printed in full-color, and have strangely-shaped die-cut edges, some of 'em!" To which I reply: YES. They were printed by my friends over at Sticker Mule. Sticker Mule would like me to mention a few things about their products:
"We can create custom stickers as well as phone/device skins. We print our stickers in full color, on extra thick white vinyl with permanent adhesive. We laminate all of our stickers to prevent fading and scratching. Device skins are made from a special material from 3M, that allows for application without air bubbles and is also removable.

"All printing is done on our massive industrial digital printers (our pride and joy), instead of screen printing. This means we can do full color as well as spot colors, and at the same price (no screen charges either).

"We have no artwork requirements, and can fix artwork for free. We send free proofs with all orders. You can request changes be made, until you think your art looks perfect.

"OH YES we also ship all orders for FREE within the US, and offer international shipping as well."
I've been very happy with Sticker Mule (the lids to the Machine of Death Card Sets were printed by them too) so if you're in need of full-color and/or die-cut custom stickers, please consider Sticker Mule.
UPDATE: If you'd like a $10 credit towards your first order, visit Sticker Mule via this special promotional link.
Sticker Mule also made me some:

Removable Bumper Stickers
These are super-cool. I personally don't want to put regular vinyl bumper stickers on my car; I don't want to mess up the paint job, or decrease the resale value. But these bumper stickers are both totally secure and totally removable. Leave 'em on your car (or whatever) for as long as you like, without worrying that they're stuck on there forever.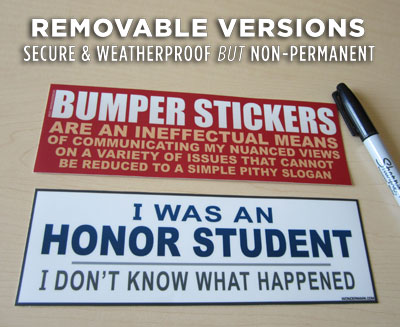 The removable bumper stickers (as well as regular vinyl versions) are available now!
Finally, I have also added some more vinyl stickers to the online store — if you haven't visited me at a convention yet, you may not have seen all of these:
They are available singly or in discounted multi-packs, here.
I'll have all this stuff at WonderCon this weekend in Anaheim, as well! (Booth 617, with Kris Straub.) I will also have…smiles