One of my wife's co-workers sent this book home with her, saying "This looks like the sort of thing David would like." And WOW, was he correct. This book is INCREDIBLE.
It's The Naughty Victorian Hand Book; or, Furtling: The Rediscovered Art of Erotic Hand Manipulation by New Zealand artists Jeremy Bennett and Burton Silver. Bennett is responsible for the many absolutely wonderful illustrations throughout the book — they're created with a scratchboard technique that mimics incredibly the Victorian-era woodcut style. Silver is the author of quite a few humor books, including two that I already have on my shelf: Why Cats Paint and its sequel, Why Paint Cats.
(Click any image for a closer look.)
The premise of The Naughty Victorian Hand Book is simple. The introduction describes the lost practice of "furtling", explaining:
To study the art of erotic hand manipulation is to start out on a wonderful journey of discovery, a journey that leads into a world of secret folds and furrows…

For no matter whether this work was billed as a "medicinal contrivance for the diminished urge" or simply as a harmless parlour-game, the prudish Victorian mind would have intuitively grasped the contagious nature of the underlying message…As you will find, these engravings have lost none of their power to excite and provoke.

They induce powerful statements of tactile value where the reader is encouraged to delight in the sensation of touch — as if the body were in miniature and the finger tip the caressing palm.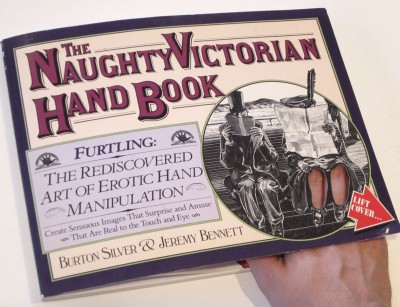 Every part of the book includes various cut-out sections, where the reader can place his or her hand physically under the page to fill out the illustration.
For example, on a given page, there will be a diagram showing exactly how to place your hand — you turn two pages, and place your hand underneath both in the configuration pictured.
Then, you lift up the top page to reveal the illustration that, with the addition of your hand, has become INCREDIBLY NAUGHTY.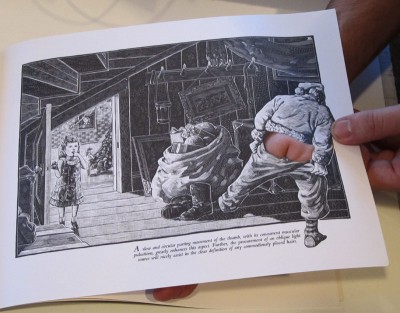 This book is amazing. It's a one-note joke, but it's so elaborately done and so wonderfully done that it's absolutely worth it. I've never seen a book quite like it.
Anyone who's read my any of my books knows that I like to include mechanics in them that respect the physicality of the book as artifact — whether it's having to repeatedly rotate The Annotated Wondermark, or hold pages in Beards of our Forefathers up to the light, or match up pages in Clever Tricks to Stave Off Death to create recipes for medicine — I love the idea of the book as thing, an item that's not just a sum of words and pictures but actually something that gains power from having physical mass and occupying a specific space in the world.
Also I can't stop giggling at it.
This book was released in Great Britain and the US in 1989, but is now long out of print. Over the last few months I've been keeping an eye out for copies in any used bookstores I visit, and also snapping them up when I come across them online. A few of you have seen me show it off at conventions — it's the only product I've ever sold that's not my own work! But it fits so well with the Wondermark aesthetic and sense of humor that I almost feel it's my duty to give this now 25-year-old book whatever second life I can.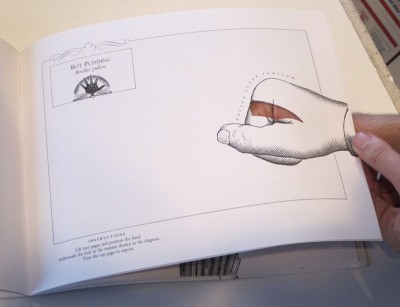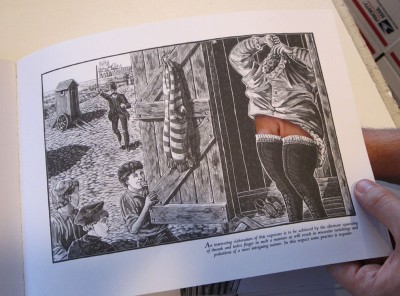 If you're as tickled by this as I am, you can find used copies on Amazon or in other used bookstores (not around me, though!).
Or, right now I've got 19 copies of my own that I'm happy to offer. Mine are all used copies (as Amazon's would be), and as such are slightly worn or may feature strange stickers — but not in any way that impedes the reading experience. UPDATE: All my copies are gone! If I obtain more in the future I will be sure to say so loudly!
Plus, if you order from me you also get a handwritten thank-you from Piranhamoose! YOUR MOVE, AMAZON.
The only difference between the British and American versions of the book is the cover design (I've got some of each). If you get a copy from me, I'll send you one or the other randomly.
With Valentine's Day coming up (and of course I still have Valentine cards for sale too!) this would make the perfect gift for the weirdo in your life!
The Naughty Victorian Hand Book:
on Amazon or available direct from me. Update: I've sold all my copies for now!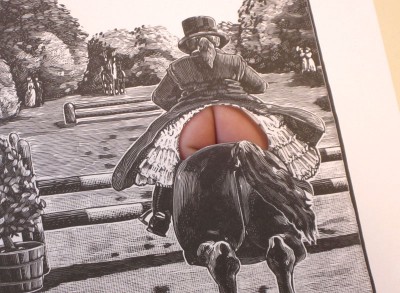 …by the way, this whole post is NSFWV (Not Safe For Wilting Victorians)