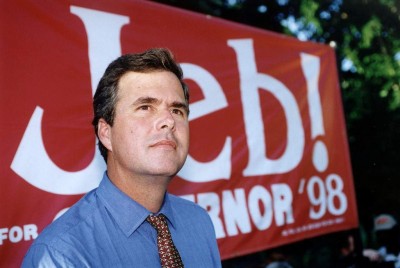 We've come to the end of Jeb!'s candidacy for president.
While he never had my vote, I have some sympathy for him, because he seems like a fundamentally decent human being — especially compared to the gargoyles and bridge trolls he's been up against.
This New York times article I think puts it interestingly:
He is a candidate so dry that flights of wit can become indistinguishable from a sober default setting…

Those who defend his comedic instincts are compelled to hedge, contrasting Mr. Bush with his brother George, a wisecracking extrovert.

"Jeb appreciates humor," Jim Towey, a close friend who served in the administration of George W. Bush, said diplomatically.

"It depends on your definition," said Mac Stipanovich, a friend and former adviser, when asked if Mr. Bush was funny.

"It's very droll," Mike Harrell, a longtime golfing partner and Tallahassee lobbyist, said of Mr. Bush's sense of humor. "He looks at you like he just told you his mother is dead."
I, too, am drawn to deadpan. Sometimes that impulse makes it extra difficult to seem, or even to be, sincere. Earnestness can seem boring; it's more fun to comment or riff on something, rather than respond straightforwardly.
So I know the struggle, Jeb!. You're a dork, but unlike the other dorks running for president, you tried to embrace it, instead of papering it over with meanness or self-righteousness. Sorry it didn't work out for you.
A few weeks ago, I signed up for all the candidates' email lists. The thing that stood out immediately about the fundraising emails coming from the Jeb! camp in particular was their unique tactic of attempting to guilt the recipient into feeling bad for not contributing to the campaign.
In honor of this week's Jebxit!, I composed a poem, using only phrases from Jeb!'s own fundraising emails.
You can read it here: "A Letter To My Friend."