Today's the last day to back my new game, TBH, on Kickstarter!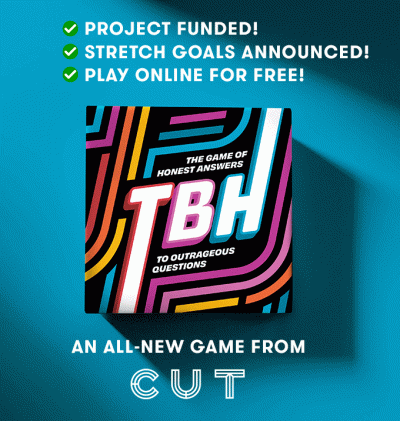 We've just hit our 1000-backer stretch goal, which means every backer will now get a free pack of Kickstarter-exclusive bonus cards!
These are cards that won't be in the post-Kickstarter edition of the game, and won't be available to anyone after today.
The game itself will be widely available in (probably) August, but only Kickstarter backers will get these bonus cards.
The cards that will comprise the bonus pack were made as Mad Lib-style fill-in-the-blanks by our backers! They suggested terms, and we made them make sense (kind of). For example:
(click the images for a closer look)
AND…MORE LIKE THIS
---
In our final few hours, we're now hoping to hit 1100 backers, which would mean increasing the bonus pack to include even more cards!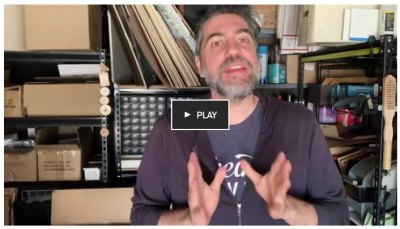 I recently posted a video on the ol' (very ol') Machine of Death Kickstarter campaign to explain why I felt TBH might appeal to folks who backed that project.
And I wrote a bit too:
I think you'll like TBH if:

You like the creative storytelling aspect to Machine of Death. TBH has that in spades.
You thought the storytelling in Machine of Death got repetitive. The topics in TBH are about many different things – not just, you know, homicide.
You thought the storytelling in Machine of Death was too unstructured. TBH gives you a prompt and then provides a specific framework for exploring it.
You thought Machine of Death was witty and well-written. Not all the same people are working on TBH, but a few are, and it's my same creative sensibility overseeing it all.
You thought Machine of Death didn't go hard enough. TBH has an optional NSFW expansion pack that's full of butts and boobs and stuff. (If you want that.)
You think this is a weird time to be thinking about death. TBH doesn't skew as dark as MOD, in that it is not a game specifically about murders.
You think Machine of Death could have used more gameplay structure. Unlike MOD, which relied heavily on subjective elements, TBH works like clockwork as a game, with a simple but elegant competition/scoring mechanic that involves all players at all times.
You wish there could be more Machine of Death. The success of TBH (if it's successful) may pave ways for more MOD, who knows!
You are glad Machine of Death is gone. TBH is a totally different game.
…And I mentioned one other thing in that post too! I figured out how to do a personalized incentive for this campaign.
As a special incentive for Friends of Malki, if you add 50 cents to your pledge (at any tier), I'll send you a handwritten thank-you card AND a special bonus game card. 
Look for the "Bonus Support" field on Kickstarter when you pledge, and add the extra bit there.
*Note that I've learned some browsers don't let you add anything but whole dollar amounts in the Kickstarter UI. Adding a single dollar also works.
Doing the above flags your pledge as, "I heard about this from Malki." This also helps Cut see how many people I personally have been able to direct to check out the game!
This helps me in a variety of ways professionally, so, I'm happy to do the extra work of writing the thank-yous and mailing them out.
---
That's it! This is the last day.
If you've already checked it out, thank you! If not, now's your chance!!
BONUS LINK FOR MORE TBH:
The great LoadingReadyRun played a rousing round of TBH the other night on their Twitch show! So this will give you a great sense of the game, too.
We've also been playing TBH on Twitch ourselves lately! Here's my channel. I want to do more of these soon!