I'm pleased to announce that several of my older, out-of-print T-shirt designs are once again available!
I've still got lots of great stuff up at TopatoCo. But these reprints are being offered through a new site: T-shirt Diplomacy.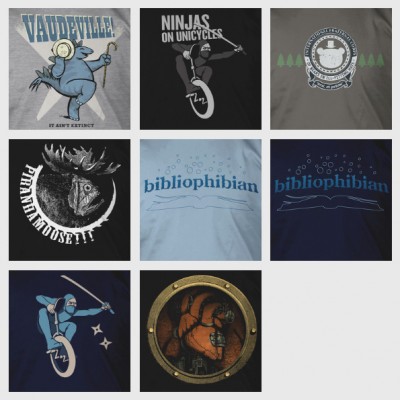 I've also got some new ones, too: the Piranhamoose Emblem (previously only a sticker):
A handsome new redesign on International Fraternal Corps of Bears in Ill-Fitting Hats:
And this guy, Vaudeville Dinosaur, whom we tried to Teespring a while back but couldn't save from going extinct. Now, those of you who love him as much I do can have him!
Also available, and pictured at the top of this post are the Bibliophibian shirts (now in light blue as well as navy).
I'm hoping to revisit several more of my older designs soon, and I'll consider revisiting compositions or colors. For example, Steam Powered Heart, one of my favorite designs, is now available on black — and without any text, which I think is a classy look.
But why not keep some old styles too? So I'm offering Ninjas on Unicycles 2008 (the original style, on navy) and a new Ninjas 2015 (on black, with text).
So what is T-shirt Diplomacy?
A while back, I was emailed out of the blue by someone named "Ambassador Xog". It was a very vague invitation to some sort of "cultural exchange", but they wanted to license some old T-shirt designs from me for reprint purposes, so, sure, I was game.
Now, their site has launched! (There's a tumblr too.) A bunch of my cartoonist colleagues are on there as well, like Ryan North, Kris Straub, Chris Hastings, and Sam Logan, with what I recognize as reprint designs, like my own.
And then there's…the other artists?
I'll be honest: these artists seem to be having a hard time grasping the nuances of pop culture. Some of their designs make no sense. Others are clever but pointless. Still others are impenetrable.
The about page raises more questions than it answers:
T-shirt Diplomacy is the first-ever intergalactic casual-apparel website.

In March 1977, the famous T-shirt Accords, a treaty between Earth and over 100 alien races from across the Nine Galaxies, laid the groundwork for the peaceful and mutually beneficial trade across the stars that we enjoy today.

Signed simultaneously in Oslo, on Earth, and Hrasbvakchar, in the Greater Chakpasadts, the T-shirt Accords represent the belief by all sentient beings that the best way for humanity and alienkind to learn and benefit from one another is via a joint commercial venture selling imprinted casual garmentwear…
I guess I am glad to be a commerce pioneer. I do recommend browsing the site, it's pretty entertaining. The T-shirts don't seem to be the generic pop culture stuff that clogs those dime-a-dozen "geek" sites.
I wish these clearly very inspired creators all the best of luck with their very strange project — I'm actually kind of curious what weird designs they'll come up with next?
But in the meantime, you can also buy shirts from me!