If you have a sweetie of any kind, you should know about my Wondermark Valentines! Here are a couple in particular:
And there are others too! Click here too see the full suite of designs. I recommend placing your orders this week, to ensure you get them in plenty of time before the ol' "V"! The V in that sentence stands for "Valentine's Day."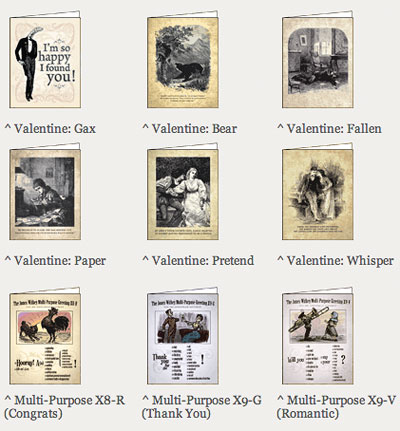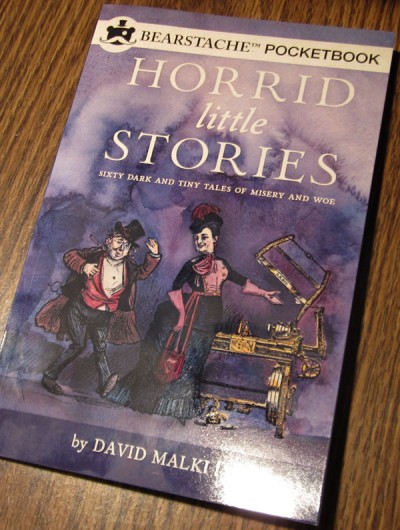 Speaking of sexy, last month, I released a book called Horrid Little Stories: Sixty Dark and Tiny Tales of Misery and Woe. It's a 150-page collection of all the art and verses from the Wondermark calendars of 2008-2012 (and a few more besides!). LIKE SO:
…FOR EXAMPLE. I'm really glad that these total strangers on Goodreads seem to like it, at least!
"These people" are, statistically, READING THIS RIGHT NOW. So just know that…I AM WATCHING
Previously I'd only offered the book as a bundle with the 2014 Calendar, but starting today I'm pleased to offer it singly! OR, you can get it in combination with its fellow Bearstache Pocketbook, the animal- and pet-themed Wondermark collection Classy Lady Like You Will Love the Smell of My Butt:
Or can even now get ALL THE WONDERMARK BOOKS EVER in a giant stack! THE CHOICE IS UP TO YOU.
Finally: speaking of calendars — I was digging around in a box in the office and I suddenly discovered that the printing company gave us sixteen extra Roll-a-Sketch calendars that I didn't know about. It's amazing what you find when you don't toss everything in a huge box and live your life that way forever! Or at least I imagine!! (UPDATE: These have all been claimed.)
So I've re-opened the calendar store for this very limited quantity and honoring all the December calendar deals as well: you can bundle it with a Horrid Little Stories book and/or a piece of original art!