Here are some cool reader-made things that hit my inbox recently!
First — Marksman William R. writes:
I have been a regular reader of your Wondermark strip since 2009. I've also recently reached the age where some of my friends are now getting married and having children.

I mention this because one such child, born this past weekend to close friends of mine who are both avid book lovers and both completed English degrees in college (one is now in law school, the other is a substitute teacher), would be a perfect model for some clothing emblazoned with the word "bibliophibian."

However, now having occasion to purchase the onesie that I once saw advertised by your comic, I was distraught to learn that it is now out of print and unavailable for sale at TopatoCo. (A quick search of eBay also turns up no results, though I'm not yet sure how I feel about the prospect of a garment-used-by-strangers-as-belated-baby-shower-gift.)

In addition to my engineering degrees I have also developed some skill in knitting over the past several years, and the thought crossed my mind that if I could not buy a suitable garment, perhaps I could knit something, maybe a hat at least. However, I would still owe (and indeed, feel) a debt to you for gracing our world with the amusing concept of an amateur librarian's darling little monster.

In short, may I have your blessing to fabricate a "bibliophibian"-proclaiming garment for my friends' infant son?
To which I answered, of course, "OF COURSE." (Hint: this will almost always be my answer.)
And the results! (Click for bigger)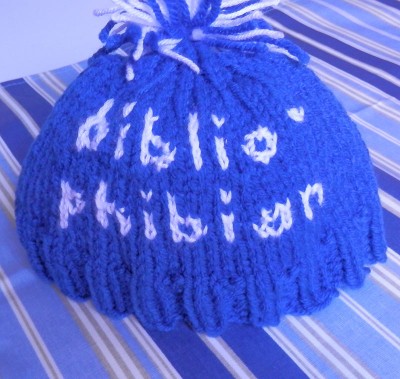 Will adds: "I'm satisfied that the text is legible even if it looks like pixel type, though I may switch to embroidery whenever the next kid comes around. The white on the back is intended to be a scribbled paragraph, and I'm starting to think it would have been more recognizable as one if I'd not 'justified' the 'text' and left it ragged-right. Oh well!"
I think it looks great, Will! Thanks very much for the pictures. I hope this baby's head is warmed forevermore by the magic of reading.
It is true that the 'Bibliophibian' shirts and onesies are out of print for the moment… But I have just worked out a deal with a new venture to bring some of my older T-shirt designs back. Hopefully we'll learn more about that in the coming weeks.
I also received this email from Mario B.:
One of the tattoos I'm looking at getting in the near future, is the tiger-soldier-chasing what appears to be a paper boy, from the Mysterious Homicides piece you made. I'm just writing to ask if it's okay to get that needled into my back, or will I have to stab a small "copyright Dave" next to it?
Mario is referring to this poster that I made for a Law & Order-themed art show a while ago!
It is not my place to tell anyone what they should or shouldn't get tattooed on their body. So, sure! I was happy to go along with the idea.
GOOD THING I DID: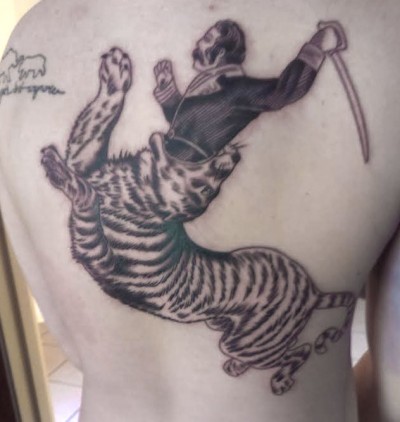 BECAUSE IT LOOKS FRIGGIN INCREDIBLE
I thought I posted some other reader tattoos a while back, but I can't find the post, so here they are again, or possibly for the first time!
From Denis C.: "I am a photographer, and this is my tribute to the world of film. When nuclear winter arrives, and EMP has destroyed all the robots and electronics in the world, I will be standing on top of the hill with my trusty Nikkormat 35mm in hand, capturing it all. Thank you for supporting the emulsified revolution, even if you didn't do it intentionally."
(Based on this design of mine)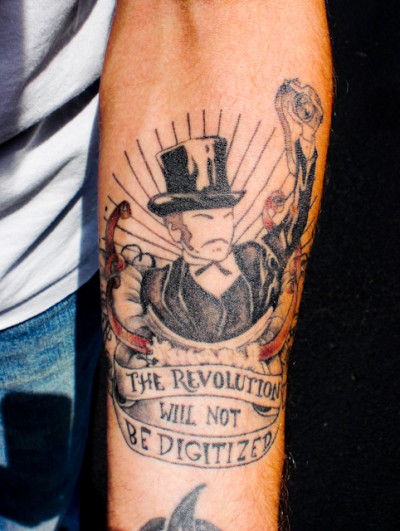 From David H.: "So, I've always been partial to a spot of Wondermark and, years ago, when thinking about what to get as my first tattoo, you posted the comic that inspired the t-shirt that inspired this very tattoo! I've have had it on my back for years, and the other day, it occurred to me that you might get some enjoyment out of it, so… well, enjoy!"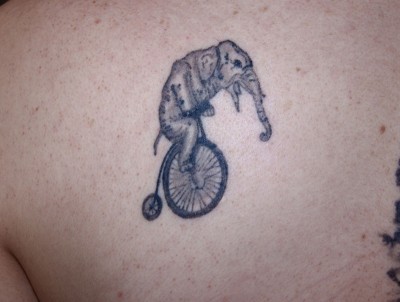 I'm going to go ahead and assume that's his shoulder blade. Still: Neat!
Also, from Daniel B., submitted without comment:
Both are from the elephant found here and on the also-out-of-print Where Is My Elephant shirt.
Finally, I have heard a few threats to attempt this best-of-all-possible tattoos, but SO FAR:
BUPKIS
THE CHALLENGE HAS BEEN LAID