Assuming you've already got copies of all my books — both my comic strip collections and my parody Victorian novels — and perhaps even a Wondermark T-shirt or two…well, you probably think I've got nothing more for you this holiday season! You, my close personal friend, are dead wrong.
First, I have a hearty "thank you!" from my warm, rent-paid-up household to yours. This is my job, thanks to kind folks like you. Hooray!
Second, I know for a fact that you don't want to go to the mall, you don't want to fight for parking…but neither do you want to just browse Amazon like a sluggard and hope you stumble across the perfect gift for all the weirdos on your shopping list. That's where I can do you a favor, with the following fine list of Gift Recommendations that are Wonderfully Creative and Unique and also Help My Colleagues Not Starve. After all, you're the one about whom everyone's always saying, "Where do you find all these bizarre and wonderful gifts?" Don't worry…your secret's safe with me!
For the book lover who's already got a framed print of this strip, the "Unshelved" book bag is hard to resist. Also check out their T-shirts — my wife's got several and they always get appreciative bibliophile double-takes (or maybe that's just my wife).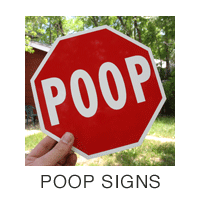 Poop sign. Great stocking stuffer? Probably won't fit. Great everything-else stuffer? 'Nuff said.
Jon Rosenberg's "Goats" is soon to be a 3-book graphic novel series from Del Rey, and he's offering some limited-edition, signed & numbered archival prints of artwork created for the first volume, Infinite Typewriters. Really lovely!
Indigo Kelleigh's designed his own 8-bit tarot cards in a colorful, retro-Nintendo style. These cards are also printed in limited edition.
Next week: book reviews!