My newest obsession is GeoGuessr, a game that places you at a random point in the world (via Google Maps Street View) and makes you guess where you are.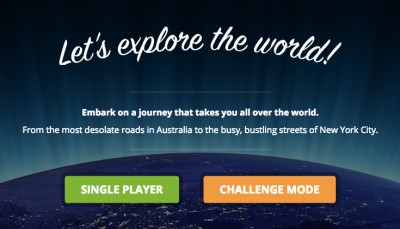 You can navigate around as much as you like, looking for identifying clues (such as signs or landmarks) before making your guess. You can play specific maps (restricted to a country or even a city), or let it plop you down anywhere that Google has mapped. You can also play specific challenges created by other people.
This is basically the perfect game for me. I don't really want to fight bosses or solve reflex-based challenges; I just want to wander around and explore and discover things. And the fact that you're exploring the real, actual world is so much fun, for someone like me who's into geography: you start looking at billboards and bus signs and pieces of trash on the side of the road as if they are clues placed for you in a video game, freighting it all with a larger meaning that's barely outside your grasp, believing that you can unravel the puzzle with the clues you were meant to find.
There are a lot of roads in the world, so when set to random, I've found that GeoGuessr often lands me on some lonesome highway in the middle of nowhere. To me, that first moment feels just as quest-like as the start of any video game (except the NPCs are very unhelpful).
These are challenging rounds, to be sure. Yesterday I clicked through a windy, backwoods Australian road for ten or fifteen minutes before finding any sort of signage that I could read. It's not fun, for most definitions of fun, but it was absolutely interesting.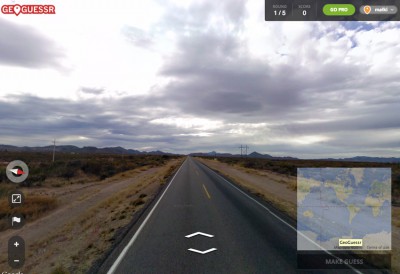 You can navigate around in Street View, and you can also explore the world map in as much detail as you like. (But the game never shows you where you are, of course, and you can't search on the map.)
Much of the time, I end up poring over the map in eye-watering close-up, scanning unknown regions for an Argentine or Turkish town name that matches one I've found in Street View.
It's a game that you can always win, if you're patient and nitpicky enough. I'm not, every time. But when I can figure it out, it's extremely satisfying.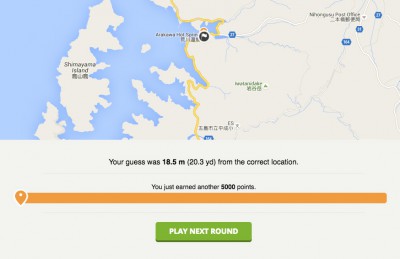 No video game designed by a human (except maybe Desert Bus) would make you click through a Mexican desert for twenty minutes before you got to anything useful, or reward the player who's able to look through a map of Brazil for the longest time.
But I accept it in GeoGuessr, because the game world is the real world. If I don't know enough about the real world to identify a name, or a landmark, or a type of terrain quickly, then it becomes a chance to figure it out. I am pretty good at recognizing languages on signs, and yesterday I learned all about how the Japanese organize their highway numbering systems vs. how the French do it.
It's not all desolate roads, of course. You often land in cities, or once, the game spawned me inside an enclosed Tunisian parking lot with no route back out to the main road. (I got a very poor score on that round.) The game navigation is limited to what Google has mapped, so some areas are poorly photographed, or the navigation is incomplete. That, I think, is all part of the fun.
That said, let's be clear: clicking around through a map of France or Wales or Texas looking for a specific road number or town name — on a map that hides small towns and roads when you're zoomed out — is tedious.
But doing so has the effect of showing me how big the world really is, which I think we sometimes forget. I love it for that.
Play GeoGuessr in your browser, for free.
Loads of people play GeoGuessr on YouTube, too.