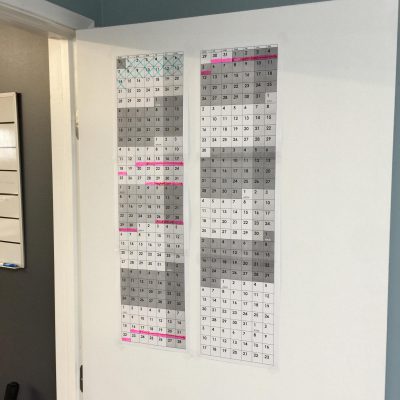 I made a simple, printable wall calendar for my office! You can have it too — here's a PDF file you can print yourself.
As you well know, I make high-end desk calendars (there are twelve copies left), but I also like having a calendar I can write on.
Those of you who've picked up copies of the Wondermark Calendar in any of the last seven years know about my interest in progressive calendars.
By that, I mean a calendar that doesn't have any breaks between months. I think I invented the term? By that, I mean "nobody else has ever used this term."
Back in 2012 I wrote all about it. The special Wondermark branded calendars, of course, address the matter with their modular card design.
But this year, I also wanted a big work calendar I could mount on the wall and write on. I like being able to see the coming weeks and months at a glance.
So I made the calendar you see here!
It's an entire 2019 calendar (through most of February 2020, actually) that fits on six sheets of regular typing paper: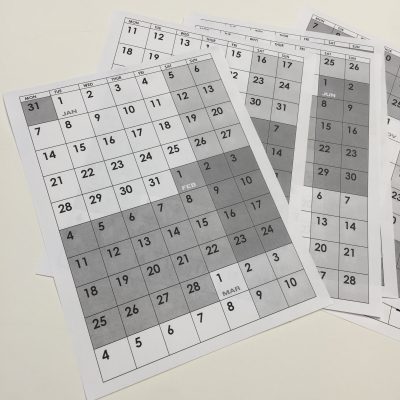 I've trimmed the pages so I could make columns of 3 pages each; you could arrange it a different way, if you prefer.
I tried to make it very simple and very clear, with no wasted space or ornament – so holidays and other observances are not marked.
I figure the relevant holidays will vary depending on where you live (and maybe what you do for work), so if you want to take a pass through at the outset and mark all the relevant ones to you, that will help you internalize them.
Since I also do a lot of weekend travel, I decided to group the weekend days together on the right, and start each week with Monday on the left.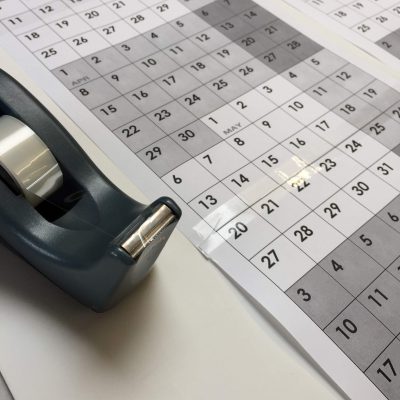 I thought this might be useful to you as well, so here you go! Please feel free to print out your own! 
If it proves valuable for you, feel free to kick over a buck or two via PayPal, but no obligation as far as that goes — I hope you find it useful, and would rather you have it for free than insist on any payment!
Longtime readers know I did this once before, in 2015, and I've missed having one every year since.
And there will actually be one FURTHER calendar-related offering coming soon… So if the premium Wondermark desk calendar is too rich for your blood, and this is too simple and too plain, I will have a nice compromise for you, coming very shortly.
---