Those of you who subscribed to Cards Against Humanity's special Ten Days Or Whatever Of Kwanzaa promotion this year will be receiving a special Funny Pages Zine — a newspaper comics section with a bunch of holiday-themed comic strips in it!
This year I was honored to be asked to participate as well. Here's a preview of the comic I made: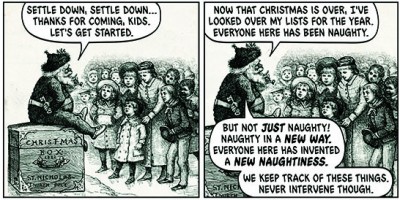 You can read the whole thing here!
All of this year's (and last year's) comics are on the Funny Pages Zine tumblr.