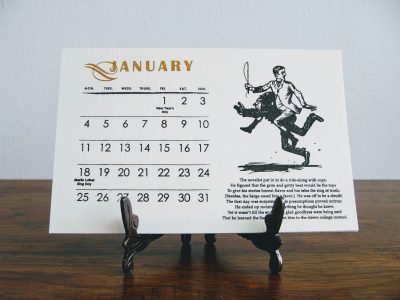 I don't have an all-new 2021 calendar, this year. Time was short, and also, shipping is such a mess this year that I didn't make a big merchandise push.
If you've ordered something from me recently, rest assured that it's on its way…but packages in the hands of the post office have been taking very unpredictable paths to their destinations lately. We can only cross our fingers and do our best.
That said — I do have a new calendar, of a sort!
I have just posted A Forlorn Collection of Whimsical Tales as a downloadable-and-printable PDF.
It was originally released as a 2010 calendar. But guess what — 2010 and 2021 have the same dates!
So it was clear to me that once again, its time to shine has come. No updating was required for it to be pressed into service.
(Although this calendar, being one of my older ones, features weeks that are arrayed to start on Monday. I left that in, for true vintage flavor.)
I have also updated my four other downloadable calendars to feature 2021 dates. They're all ready for you now. Those all have weeks that start on Sunday, if you prefer that.
(Also, psst: Folks who're subscribed to Patreon just got all five downloads for free.)
The 2010 calendar was originally a hand-printed product, featuring 12 individual cards in an easel, as pictured above.
I looked back at my posts from the time and I'm still charmed by this multi-part blog series about the making of the 2010 edition! It talks about the writing, design, and production that went into that style of handmade, 12-page calendar, which I created in small batches for five years (2008–2012).
I ended up scanning around 60 different images and playing around with them in various configurations, combining and re-combining them in different ways, trying to see what scenarios and stories they suggested.

The way I work is different from many artists, and certainly many cartoonists. While I do often compose the comic's images to match a previously-written script, I also have great fun at times simply building scenes like a puzzle, not knowing what's going on until the very end of the process — and sometimes, in the case of the comics, occasionally not knowing what's going on until I've actually written most of the dialogue! I like seeing where it goes and the directions that it takes by itself, and it's almost more like sculpting with clay, adding pieces and taking them away, than drawing or painting… [Continued]
In 2013, I switched to making biweekly "progressive" calendars, which involved more writing and design work, but less physical production. This is the first time I've reissued one of the early editions as a printable.
---
Nonetheless, if you prefer your calendars pre-printed, may I refer you to these fine models from my good friends in Alaska?
Pat from the Alaska Robotics gallery in Juneau makes a good pitch, I think:
Bear and Whale Calendars! #SmallBusinessSaturday pic.twitter.com/x9BzYEaMXq

— Pat Race (@alaskarobotics) November 28, 2020
I endorse these bears! And whales! There are whales, too. If you don't believe me, take Lucy's word for it.
Update: https://t.co/WmLtvjiUv5 pic.twitter.com/DHKT8yAZiw

— Lucy Bellwood (@LuBellWoo) December 17, 2020