January 12th, 2016
Boo, postal rates are going up again! Regular letter mail is unaffected—and there's actually an improvement to parcel service: now first-class parcels can go up to 16 ounces, instead of 13! LONG OVERDUE, in my opinion!
BUT, unfortunately, package rates and international rates are going to go WAY up. The price increase takes effect on January 17, and I will have to bump up the shipping rates in the store a little.
SO, if you would like to buy some Wondermark valentine cards, and BE READY for mid-February for once in your life, this week is a really great time to do so!
We've also got the whole complement of Multi-Purpose Cards in stock, and thanks to our Kickstarter campaign last fall, all sets of the Multi cards now ship in snazzy foil-stamped boxes at no extra charge: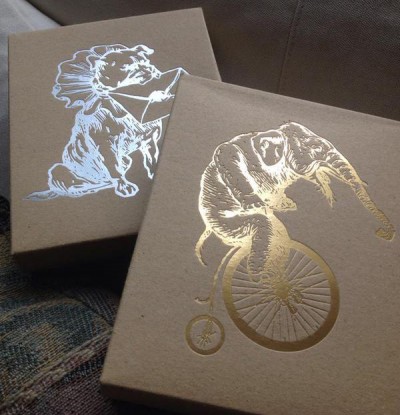 These boxes contain no labels or branding and are yours to keep forever! You can put anything you like in them, even drugs (CO and WA only).
What great boxes, everyone! Enjoy those boxes. They are pretty super! And the cards are good, too, I am told.
AND HERE'S A SPECIAL DEAL FOR YOU: I like these boxes so much, that for this week only, I'll include a gold foil box with any set of 10 cards! You can mix and match which 10 cards you like, and I'll pack them in the lovely elephant box for you to enjoy for the rest of your life and your descendants' lives.
[ All Manner of Wondermark Greeting Cards ]