Thursday, July 16th, 2015
Here are a few of the Roll-a-Sketches I did at Comic-Con this year! (Click any image for bigger.)
Of course if you'd like to get a Roll-a-Sketch coloring book, postcard set, or watercolor painting, our Kickstarter is still going on presently!
We're doing SO WELL. Thanks to your support, we're over 140,000% funded with 10 days still to go!
I think the potato salad dude set the Kickstarter funding record at 550,000% of his goal amount, and heck, I'd be a liar if I said I wouldn't love to beat that. Regardless, every backer is cherished and special to me.
Okay cool! Here's some of the drawings from San Diego!
TERMINATOR + FANTASY + JABBA + DEVIL:
BANE + WHEELBARROW + GIANT + CHEF:
PRINCESS + JABBA: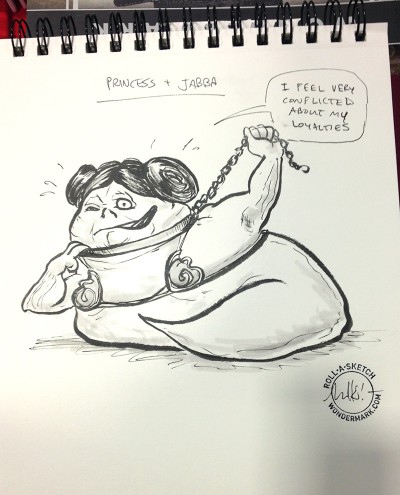 GRANNY + TERMINATOR:
CASTAWAY + MAMMOTH:
GARFIELD + PRINCESS:
My next show is Gen Con in Indianapolis; see you there!