Monday, April 6th, 2015
Here are some Roll-a-Sketch drawings I did the other weekend in Seattle! Roll-a-Sketches, of course, are drawings whose subjects are randomly chosen by the throwing of dice — or, as the ancient Romans used to call them, "Bones-a-Etches."
Thanks to those of you who came and said hello at the booth, either to grab a book, or a sketch, or maybe pick up your Wondermark jigsaw puzzle! It was nice to see you all.
Click any image for an arguably too-close look at any image!
ASTRONAUT + SAMURAI + LAWN MOWER + TRUCKER:
TOUCAN + DINOSAUR:
LADYBUG + SKUNK:
SAMURAI + TEA: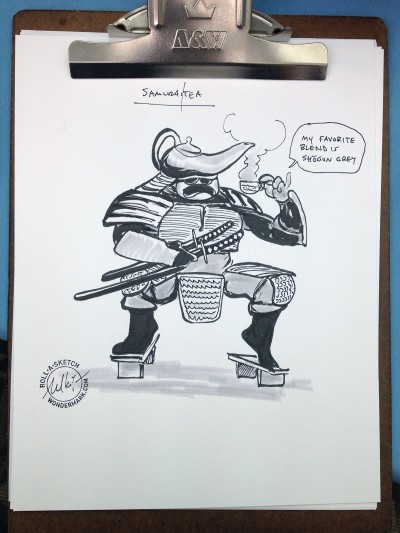 ASTRONAUT + DRAGON + LAWN MOWER + CARNY: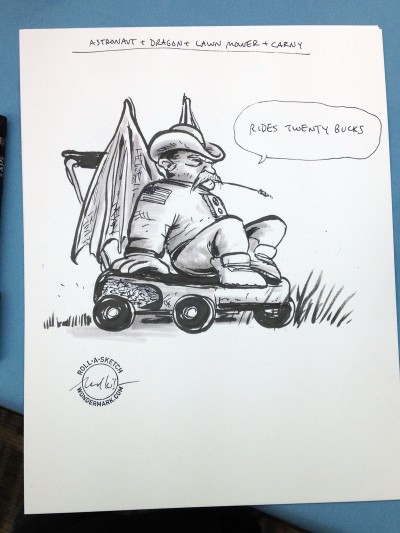 BARBARIAN + SKUNK:
My current convention schedule for the rest of this year, so far, is:
MAY 15-17 : Maker Faire Bay Area, San Mateo : I'll be in the Bazaar as usual!
MAY 23-24 : Vancouver Comic Arts Festival : Looking forward to a triumphant return to BC
JULY 8-12 : San Diego Comic-Con or whatever
JULY 30-AUG 2 : Gen Con Indy : I might try to host a playtest of a game this time around!
AUG 19-23 : World Science Fiction Convention / Sasquan, Spokane, WA : I missed last year, but I'm coming back, and I'm bringing Dave Kellett with me!
That's it for the spring and summer. Maybe one or two more in the fall. Hope to see you at one of them!!
Daily Roll-a-Sketch drawings continue at rollasketch.com! Oh yeah and we got coloring books too!