November 22nd, 2011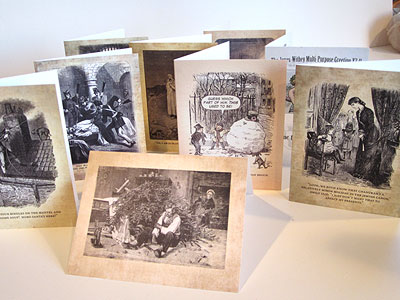 I'm super-pleased to announce some neat new things for the holidays! Quick links:

General Notes
I have two official stores!
My TopatoCo store offers T-shirts, posters, art prints, messenger bags, books and Machine of Death stuff.
My in-house store offers greeting cards, calendars, and for this season, books (including "Artist Editions," in which I draw a custom unique sketch in each book).
Both stores are great places to pick up gifts for that special someone (or yourself — I won't tell), and between the two you can find pretty much everything you need, ever. Hooray!
Now, the first important note: TopatoCo has announced their holiday shipping deadlines. If you'd like to order a shirt, poster, or anything else from TopatoCo (my store or any other), and you'd like it to arrive before Christmas, check their grid to see when you should order it by. Spoiler alert: the sooner the better.
Next item: I have opened pre-orders for the 2012 Wondermark Calendar. This will be the fifth year for the calendars, and likely the last year that we hand-print them — the supplies are just getting too hard to find. Next year I will probably do something slightly different, but for now, we're committed to offering the 2012 calendar in the traditional, hand-printed style. I'll have lots more to say about this in the weeks to come, but for now: if you already know that you want this, feel free to jump on it now! You'll lock in a low-numbered copy (if you care about that) and it'll also give me a good gauge of how many to print this year.
Shipping note: If you order greeting cards and a calendar in the same order, the cards will ship ASAP (orders will go out starting on Monday), and the calendar will ship separately later. If you order books and a calendar in the same order, they will ship all together when the calendar is ready, unless you need it to be otherwise.

New Greeting Cards
Maybe you know that I offer a complete line of Wondermark greeting cards for every occasion, including humorous designs for the holidays! These are quite popular every year, and I'm thrilled to announce a few new ones this season. This one is called "Frosty":
In addition, here are two new Multi-Purpose Cards. One is holiday-specific (including Christmas, Chanukah, Eid al-Adha, your birthday and World Food Day):
The other is a more general, "Thinking of You" type card, with a "thank you" component as well: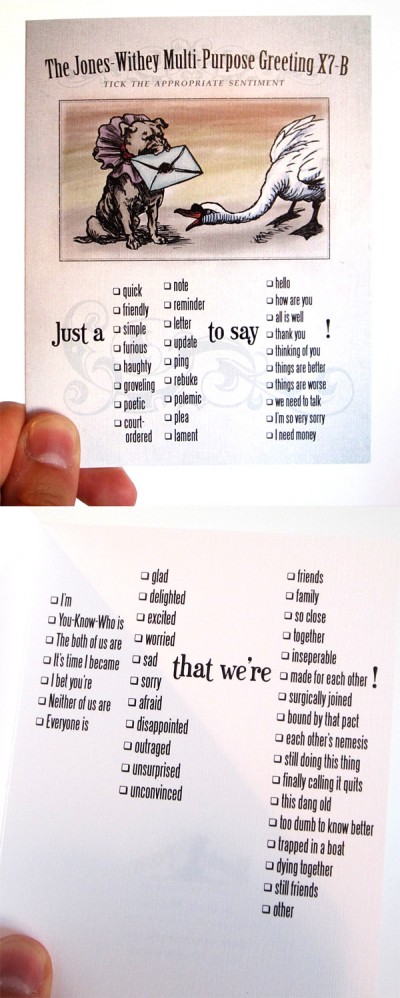 Also, by popular demand, here are two new blank-inside cards (good for any occasion at all). One features my "Tinkerer's Rules" design…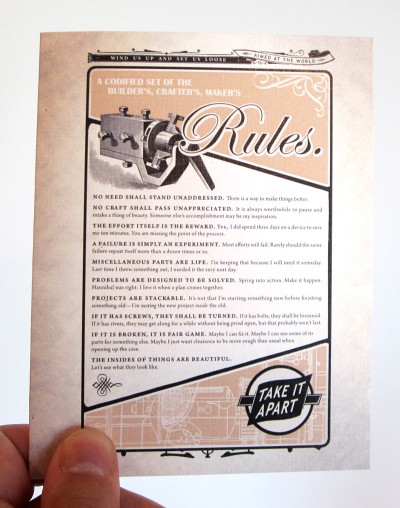 …And the other features my "Inspector Gadget: The Electric Policeman" design from Issue One of The Devastator: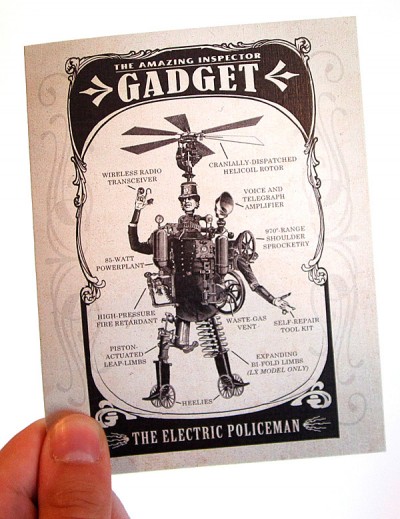 This brings the total number of card designs available right now to thirty-five. You can mix and match designs to create a custom pack if you like! Order now, and cards will begin shipping on Monday. Again: if you bundle cards and a calendar in the same order, I will ship the cards ASAP and the calendar later in December (once it's printed).
BONUS: If you include a joke in the "Special Instructions" box at checkout, I will try it on my cat. If the cat laughs, I will high-five your package before mailing it!

Artist Editions are now available!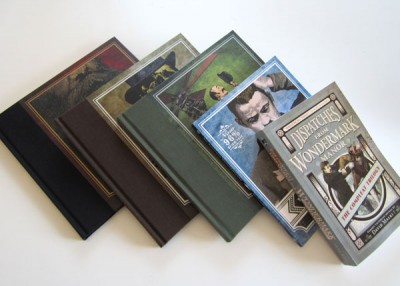 Twice a year, I offer my books in "Artist Edition" — this means I create a custom unique sketch in each book, for those who desire it. (Here are some previous examples of my Artist Edition sketches.) This season, I'm doing it at home, rather than going to TopatoCo HQ.
So if you'd like an Artist Edition book (or several), you can order them now! This option will be available only through December 4, to ensure I'll have time to finish them all.
Any of my books (or book combo packs) may be upgraded to Artist Edition for a limited time!
In addition, for the first time I'm extending the Artist Edition option to a new type of book…a prose book…

The Compleat Dispatches from Wondermark Manor.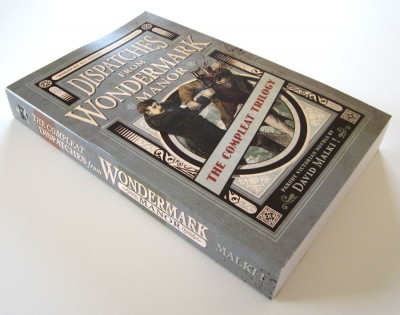 Oh man. SO EXCITED about this one.
If you're new to Wondermark, you may have missed Dispatches from Wondermark Manor, which ran from 2006 to 2009. Here's the backstory: when I look through old books to find images for Wondermark, I often get caught up reading the articles and stories that the books also contain. (Hence the True Stuff from Old Books series.)
In many cases, that material was serial adventure fiction. And I got that style stuck in my head. So a few years ago, I decided to start writing my own Victorian adventure fiction, but way weirder.
I began sending it out to subscribers of my newsletter, one chapter at a time, and after about three years I had written three complete novels. I printed them as chapbooks — Dispatches from Wondermark Manor Volumes 1, 2, and 3 — and if you've read Beards of our Forefathers you may have noticed a brief excerpt in the back pages of it as well.
But once all three books were complete, and the chapbooks had all sold out, I knew that I wanted to compile everything into one giant omnibus collection. That grand plan first sprouted about two years ago, and in the time since I've steadily been plugging away at the collection — revising and rewriting sections of the text, designing the overall package to look super-snazzy, even hand-drawing some maps to go inside:
To give you a taste of these 500 pages of strange, funny Victorian adventure fiction, I'm releasing the first 137 pages — that's all of Volume 1 — as a free PDF. Read it, download it, see if you like it, send it to your friends, whatever:
(UPDATE: Here's an alternate download link on Dropbox as well)
If you do like it, you can:
Get the full edition in paperback from me (as a regular or Artist Edition)
Get the full edition in paperback from TopatoCo (good if you want to bundle with a T-shirt order too)
Or, download a complete, 500-page PDF in exchange for a donation of your choice of amount.
I'm also auctioning my copy editing proof (pictured below), starting at just 99¢ with free shipping in the US.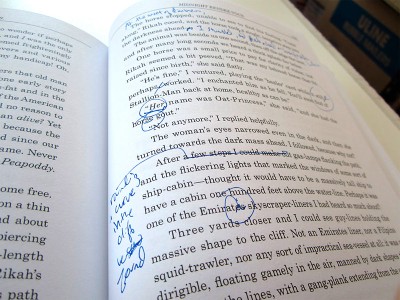 This is a copy I've personally mangled, mutilated, carried around and scribbled all over for the last few months. I'll sign it for you too! The auction ends Tuesday, November 29th.
Holy crap
Did you read down this far? REWARD YOURSELF: use store code "YESIDID" for 10% off any order from my in-house store! (valid through December 4).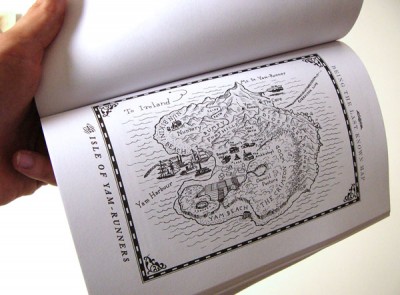 Thank you so very much for your support!