October 24th, 2012
My former assistant Zachary Sigelko (who made today's guest comic) recently moved to Chicago, and right now he's in a play at the Signal Ensemble Theater called Funeral Wedding: The Alvin Play. (Zach's the one with the accordion.)
I don't know much about it, except that it seems creepy and cool and Gorey-esque — in other words, perfect for Halloween! Tickets are here; the show runs through Nov. 17 with a special Halloween show next Wednesday.
I've asked Zach if he wants me to try and get him a new job in Chicago and he has always responded politely and noncommittally. BUT I PROCLAIM, if you need a smart, friendly, funny employee in the Chicagoland area, you could do a lot worse than to hire Zach. Email me and I'll put you in touch with him.
BONUS LINK: The play's poster (below) is by Phineas X. Jones, who also illustrated our Machine of Death Soviet Propaganda Poster!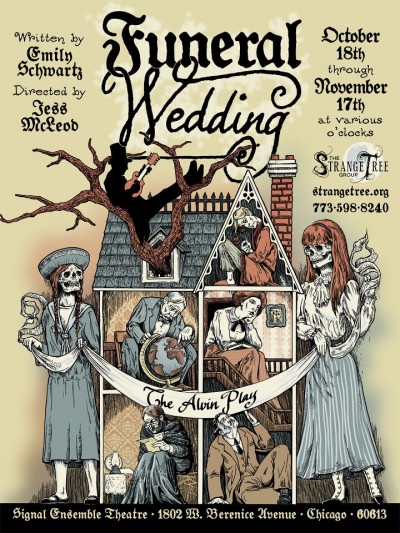 EDITED TO ADD: If you're in Los Angeles this Friday (October 26), check out my friends performing in the Tin Pan Radio Theater, a fully improvised, live-on-stage 1930's radio show! I saw this show last time it ran and it's great.